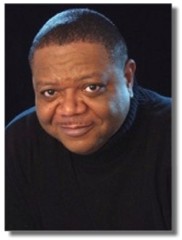 Gary Motley, jazz pianist and composer. Gary began studying the piano as a young child and would later be exposed to jazz as a teenager. It was soon thereafter that he would decide to make music his life's endeavor. During his career, Gary has established a professional association with many of today's leaders in jazz. He has worked with artists ranging from Dave Brubeck to Clarke Terry.
Gary has been recognized with awards from the National Endowment for the Arts, the Soapstone Center for the Arts, the Great American Jazz Piano Competition, and the American Composers Forum. Gary has also been featured in Downbeat Magazine and on Piano Jazz with Marian McPartland (NPR). His recording credits range from his premier CD Peaceful Moments (1994) to his latest recording, Everything I Love which was released in May 2005.
In 2000, Gary served as pianist and conductor for the Alliance Theater's production of Blues in the Night and also collaborated with actress Debbie Allen and director Kenny Leon for the theater's premiere of Soul Possessed. Gary can also be heard on the Debbie Allen-Phylicia Rashad production of The Old Settler on PBS. Gary recently recorded music with Whoopi Goldberg for the Broadway production of Ma Rainey's Black Bottom and also collaborated with Kenny Leon and Sean Combs, providing music for the 2004 Broadway Production of A Raisin in the Sun. Gary is the recipient of Creative Loafing Magazine's Critics Choice Award for Best Local Jazz Pianist.
Notable performances include the recent premiere of Gary's first orchestral work, entitled The Artist and the Visionary, a duet performance pianist Dave Brubeck and concerts with Michael Brecker, Joe Lovano, Jon Faddis, and Eddie Daniels. Gary's recordings include Compassion (2001), The Gary Motley Trio featuring Veronica Tate (2001), Keypers (2004) and Everything I Love (2005). He is the recipient of Creative Loafing Magazine's Critics Choice Award for Best Jazz Artist and was selected by the American Composers Forum to serve as an artist-in-residence resulting in his second composition for string orchestra and jazz trio entitled The Resolution of a Dream. Gary's most recent composition, Highland Summit: A Suite for String and Jazz Quartet is scheduled for premiere at the Highlands Chamber Music Festival in 2006.
Gary is a member of the National Academy of Recording Arts and Sciences, the American Federation of Musicians, and the International Association for Jazz Education.